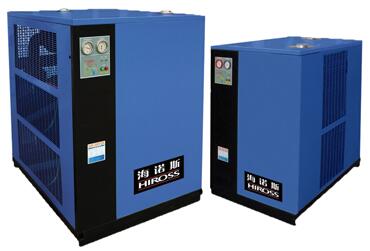 Inlet temperature: ≤45°C
Ambient temperature: ≤40℃
Refrigerant: R-22, R134a, R407C for optional
Pressure dew point: 2-10℃
Cooling type: Air cooling
Work pressure: 0.6-1.0Mpa
Pressure loss: ≤0.02Mpa

◇ Classic, neat and compact structure design.Science and technology aesthetics-specialization.
◇ Pre-cooler of copper gas-gas, the evaporator of copper, more sufficient for exchanging heat.
◇ The best parts, the best design, the longest life.
◇ All electrical intelligence control, no " ice machine", more reliable and save energy.