REFRIGERANT AIR DRYER SERIES "IDFA"
เครื่องทำลมแห้ง (ระบบน้ำยาทำความเย็น ) รุ่น IDFA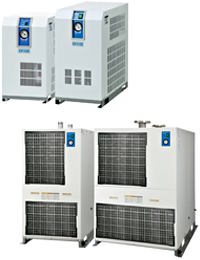 FEATURE OF AIR DRYER "IDFA" SERIES
・EC Directive compliant product (With CE mark)
・Power supply voltage: Single-phase 230 VAC (50 Hz)
・Tolerant of high temperature environment!
・Top of its class in the industry for the large air cooled type
・Energy saving design
・Exhaust heat reduced by 25% at max.
・Ambient temperature increase suppressed.
・Employs a heat exchanger made of high corrosion-resistant stainless steel
・Ambient temperature 45°C at max.
・Inlet air temperature 60°C at max.
Continue Reading